Wedding
Cake Pricing
Please call us for pricing on our special custom wedding cakes.
seasonal
offers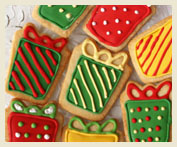 Cookies for Hanukkah & Christmas.
Nutmeg Sugar Cookies are our specialty and we always have some on hand. You can also order Cream Cheese, Creamsicle or Chocolate Cookies....
read more
Hang a Cookies Wreath on your wall.
If you're looking for a novel idea, give a Cookie Wreath. The wreath is approximately 18" in diameter with 12, 18 or 24 varieties of cookies...
read more